Meet a Farmer: Jeff Dolan of DiMare Fresh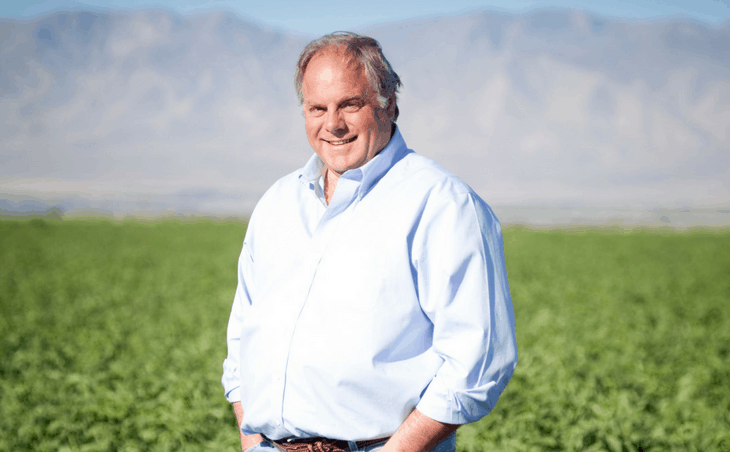 Meet Jeff Dolan, Field Operations Manager of DiMare Fresh in Indio, CA. As a third-generation farmer who started working when he was 12 years old, he knows what it takes to manage a great farm and business.
Learn more about Jeff, how hard work has driven the success of his family's company and why he says there's no better feeling in the world than planting food for the world to eat.
CA GROWN: Tell me about the history of the company and what your role is.
Jeff: The DiMare Fresh company has been in business since 1928 and started in Boston. My grandfather and his two brothers started out selling tomatoes out of a pushcart filled with produce on the street corners and eventually opened a storefront in Boston. Then they started to do some farming to supply the repack business and ended up farming in Cuba, Florida and California. Today, we're only in Florida and California. Over the years, we acquired other repack businesses so that now we're a vertically integrated tomato company with facilities in six different states.
CA GROWN: What does a typical day look like for you?
Jeff: It varies a lot. These days, there's a lot of regulations and a lot of paperwork, so I spend quite a bit of time dealing with those sorts of things. As an example, we're harvesting tomatoes down in Coachella Valley today and that's how the day started. We got things coordinated and figured out for how many loads we need to pick and then we got the weekend scheduled. We're also having our food safety inspection out there as well, so I've been getting phone calls off and on this morning to clarify different parts of our food safety program. I'm also driving around the San Joaquin Valley today to Fresno, Los Banos and Newman to see the various tomato fields that we have. We're also planting tomatoes today, so I've been in touch with my planting supervisor to make sure everything is going well with him and that he's set up for the next few days as well. I'll head to the office before the end of the day and take care of any matters there before I head home. That's kind of a typical day for me this time of year.
CA GROWN: What drew you into the farming profession?
Jeff: I grew up outside of Boston and one of our businesses was in the produce center. I started working when I was 12 by helping out with the repack operation. In high school, I started unloading freight cars and trucks and setting up produce displays. I would work five days a week and go in around midnight. When I graduated from high school, California agriculture was really booming at the time and my grandfather suggested that I come out to California to see what was out here. So I started coming out here to visit during the summers and I took a couple of semesters off from college and I would help out on the farming end of the business. I ended up getting a degree in Agricultural Economics from Colorado State, moved out to California in 1985 and started out at the bottom of the ladder. I've done everything from drive tractors to irrigation to picking tomatoes to harvesting. I just worked my way up the ladder and that's how I got where I am today. I think doing all those tasks was essential because you can't be in management in this industry without knowing what it takes to do all those jobs. For this kind of work, there's no way to study for it in school or read about it in books. It's all hands-on experience and it takes years and years to accumulate the knowledge. Basically, you can only grow one crop per year on one piece of ground and each field is a little bit different. It takes years and years of seeing how things react each time to figure out what the best ways are to grow it. So you can tell people or try to teach them, but you have to have that hands-on experience to truly know what you're doing.
CA GROWN: What are some ways your company gives back to the community?
Jeff: We've been in California since the early 1950s and we have a lot of people that come to us for different events. From softball to little league, you name it. They built a new medical clinic several years ago and along with other farmers in the area, we donated the money to help build that facility. So just being in this community for so long and giving back to help people in this community is a big part of what we do.
CA GROWN: What are your hobbies or pastimes when you're not farming?
Jeff: I'm getting a little on the older side now, but I've been skiing for 50 years now. I started when I was five years old and I love doing that. I also race off road race trucks in the desert. Between those two things, those are my favorite hobbies these days.
CA GROWN: What's the most rewarding part of your job?
Jeff: I get to take a bare piece of land every year and plant tiny tomato plants in it. Then I get to harvest a great crop and in the end, we help feed the world. How much better can it get? It's a wonderful feeling to supply restaurants and stores across North America with our tomatoes. There's also so much pride in not only producing a great crop, but also to know that we have hundreds and hundreds of employees that work with us and we help provide their family's livelihoods. The fact that we're a family business is also great because my daughter started working here, so now we're on the fourth-generation. It's nice to know that we've been successful and able to maintain our family traditions over the years.
CA GROWN: What is something that's unique about your business or makes it stand out?
Jeff: We're a vertically integrated tomato company and we take care of everything from the planting all the way up to repack and distribution. There's only a few companies in the United States that do what we do, so that makes us unique. Also, the fact that we've been successful for so many years and we're working on our fourth generation. It's hard to keep these types of companies going from one generation to the next and it takes a lot of work, so I think any company that's been in agriculture for that long is doing something very special.
CA GROWN: What advice would you give to someone who wants to become a farmer?
Jeff: Be ready to work, work and work some more. There are no shortcuts. And I'll be honest, you don't have time to sit there and have attorneys cross all your T's and dot all your I's. You've got to do a lot of stuff on a handshake in this business, but if you work hard and you're honest, you'll have a good chance of success. Being a farmer is a challenging career and you have to really love what you do. If you're not in it 100%, you don't want to be in this game. It's not for the faint of heart, the weak or the timid. But at the end of the day, there's a lot of reward that comes from being able to take this land and grow food that feeds the world. You won't get that great feeling anywhere else.
CA GROWN: What has contributed to your past success and what are you doing to ensure success going forward?
Jeff: If you look at any of our family members that have worked here, everyone works very hard. We probably work as hard or harder than the people that work for us because we try to lead by example. I try and hire smart people because I think it's a great policy. If I can find someone who's smarter and works harder than me, I think that's great. We've got a lot of people that have worked for us for a long time and we do our best to take care of those people. We try to provide the best service to our growers and our customers, both of which are very important traits to have. Those allow you to go on in this business for a long time.
CA GROWN: As a California farmer, we know that you have a long list of activities you undertake on your farm to care for the land and its resources. What are one or two ways that you're most proud of or you feel are innovative ways you care for your land?
Jeff: I've got this theory – if you feed the soil, then you feed the crop. I always try to give a piece of ground back in better shape than when I took it over. That means we don't skimp on our fertility program, we use high quality fertilizers that are good for the soil and good for the worms. We want that soil to be alive because if we keep it alive not only for ourselves, but for the next people that take that piece of land over, we'll remain sustainable.