Meet a Farmer: Frank Bavaro of Bavaro Ranches Inc.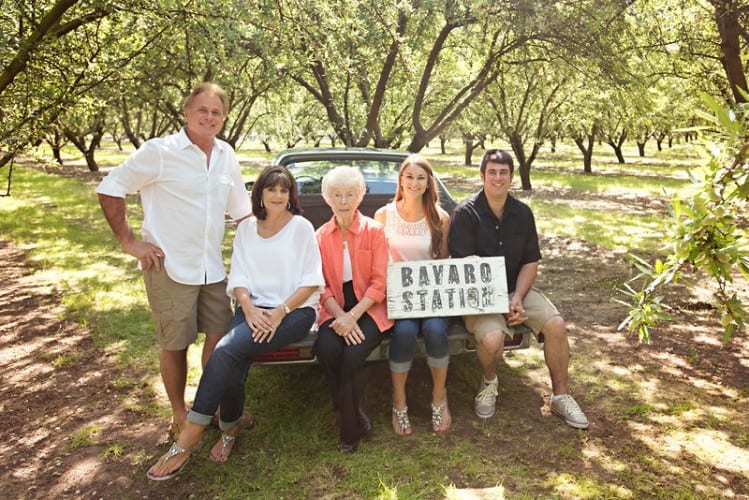 Meet Frank Bavaro. He's a third generation nut grower and peach farmer from Escalon, CA. We chatted with him about sand car racing, family, and of course farming!
CA GROWN: What are you doing today?
Frank: I am out in the field right now, sitting under a peach tree! Today we are harvesting cling peaches, and we are also trying to finish the development of a new peach harvester that we built this past winter. We are trying to work some bugs out of it as we speak.
CA GROWN: What do you grow?
Frank: My primary crop is almonds, but I have about 160 acres of cling peaches, and I have some walnuts as well. The peaches are only 20% of my operation, but they take about 80% of my time!
CA GROWN: What is your favorite thing about farming?
Frank: I really do have an appreciation for growing food. I love watching someone get a big smile on their face while they are eating something that I have grown. It is very gratifying.
I also have a lot of respect for the farming profession. Farmers are a minority; there are not many of us. When I go on vacation, people are usually shocked to find out that I am a farmer (and that farmers still exist). Once I tell them what I do, I usually have the opportunity to chat with them about the food on their table and where that food comes from.
CA GROWN: How do you give back to the community?
Frank: I've always contributed to the Junior College. But one year, I did pretty well and donated $50,000 to the local high school so they could buy modern equipment and laptops for each student. I also have my door open to mentor kids by providing students with a job on my farm. I learned a lot of responsibility by working on the farm and I try to provide that same opportunity to the local students in our community.
CA GROWN: What drew you into the farming profession?
Frank: I was born and raised on our family farm, and I really liked it. I knew what I was going to do as a young kid. Farming was passed down from my grandfather to my dad and then to me. I can still remember my grandfather being out in the field with us. And now, my son and daughter are involved in it today. Having my kids involved in the process brings me a lot of joy and keeps things fun.
CA GROWN: What are your hobbies or pastimes when you're not farming?
Frank: I love riding sand cars for fun. I have a group of guy friends from my childhood and we get together once a year and have a guy's weekend. We BBQ, ride in the sand, and hangout. It's a blast.
CA GROWN: What advice would you give to someone who wants to become a farmer?
Frank: I think that they need to look deep inside to make sure it is their passion. Everyone goes to school to get a degree and then a job. But in farming, it is not just a job; it's a lifestyle. It is important to be committed and understand the sacrifices you will have to make. If someone decides that farming is what he or she would like to do, then my advice is to get a job with a few farmers, get involved with Future Farmers of America, and take the time to figure out what you want to grow.