Meet a Farmer: Everardo Robledo of Robledo Family Winery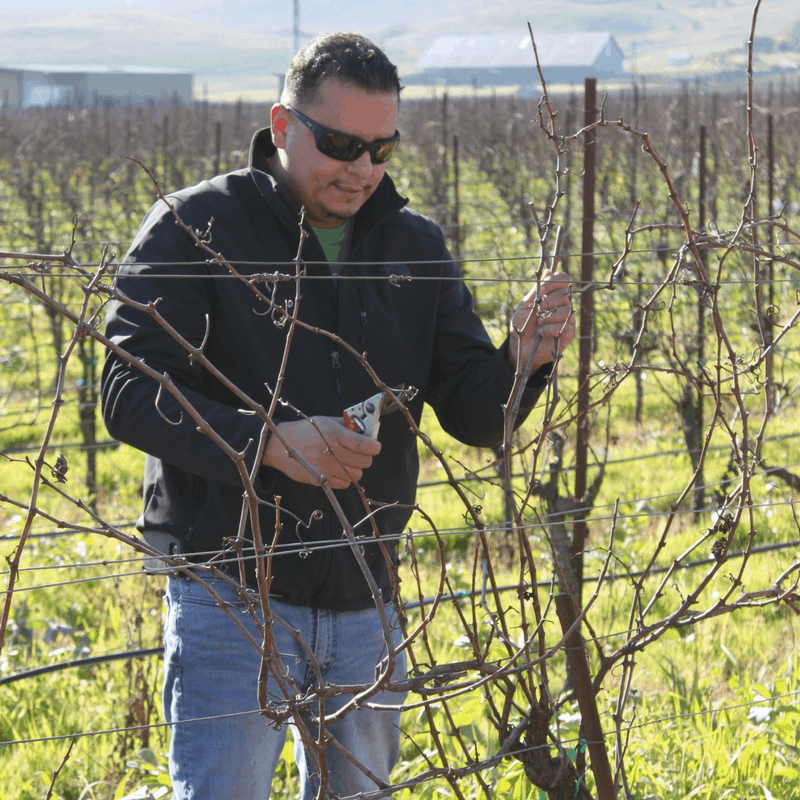 Meet Everardo Robledo, CEO of Robledo Family Winery and fourth-generation farmer in Napa, California. As the owner of the first winery established by a former Mexican migrant worker, Everardo is proud of what his family has accomplished and the bottles of premium wine they produce.
Learn more about him, why farming is in his blood and how rewarding it is to drink his own glass of wine at the end of a long day!
CA GROWN: Tell me about the history of the company and what your role is.
Everardo: I've been in this business all my life in some way or another. My dad was involved in the farming aspect ever since I can remember, so that's pretty much how I started being around vineyards. Eventually when I was old enough to use a shovel, I used a shovel. And when I was strong enough to prune, I was out there pruning. I would get out there to drive tractors and do different jobs on the farm. I've done this all throughout my life, so that's how I got involved in farming. It's pretty much in my blood because my great-grandpa did it, my grandpa did it, my father did it and now I'm doing it. As far as our history, my great-grandfather came to this country as a bracero in the 1940s and he actually built some of the railroads and got into farming here in Northern California. Then my grandpa came and got involved and eventually, they brought my dad at the age of 16 so he could raise his family here in the Sonoma/Napa area. After I graduated from high school, I became a farm labor contractor and I would go and develop vineyards for other people that wanted to have their own vineyards. I'd go on site, look at how I was going to lay it out and I would see which direction the rows would go, what kind of soil there was so I could match it up with the root stock, and what kind of variety was good for the climate. Then we'd plant it, grow it and eventually in 3-4 years, they'd sell it or make it into wine. I did that for several years and eventually we started investing that money back into our vineyards and growing our own vineyard portfolio. Today, we have nearly 400 acres in the Napa/Sonoma/Lake County areas and we sell 70% of our grapes to other wineries and we produce 30% of what we grow for our own portfolio of premium wines.
CA GROWN: What does a typical day look like for you?
Everardo: I'm the CEO of the winery, so day to day, I make sure everything is going well and I make sure business is happening. Whether it's selling grapes, selling wine or a combination of both, that's what I do. There's a few other things as well, but that's mostly what I do.
CA GROWN: What are some ways your company gives back to the community?
Everardo: We have a lot of instances where we donate wine bottles for a good cause to different events and fundraisers. We also have kids from the local Boys Center here in Sonoma that help on the weekends and that helps them learn good work ethic. So we're definitely involved in a lot of different things within the community.
CA GROWN: What drew you into the farming profession?
Everardo: I grew up in it, so it was second nature to me. I wanted to actually get into building construction because I was good at building stuff. But I think once I got involved with the winery, I grew to love it more and I've been around it all my life, so it was a natural fit.
CA GROWN: What are your hobbies or pastimes when you're not farming?
Everardo: I love spending time with my kids because to be honest, I work a lot.
CA GROWN: What advice would you give to someone who wants to become a farmer?
Everardo: If they like working outside and dealing with mother nature, I think this could definitely be a great career for them.
CA GROWN: What is something that's unique about your business or makes it stand out?
Everardo: There's a few different things, but probably the most unique is it's a family-run business. There's a lot of pros and cons with being a family-owned business, but I just really enjoy working together with my family.
CA GROWN: What has contributed to your past success and what are you doing to ensure continued success going forward?
Everardo: We've always had a great work ethic and that's important. I started working at a young age and when I was younger, I don't think I appreciated that as much as I do now that I'm older. I think having a vision and making it happen has also been important for us.
CA GROWN: What's the most rewarding part of your job?
Everardo: Sitting down at the end of the day and having a glass of my own wine. It's a lot of hard work and I've done it all. I know how to develop a vineyard from the ground up and I know how to make the wine, so it's really rewarding when you were a part of that whole process and get to enjoy the fruits of your labor. It's a great feeling to see how the wine comes out from a vineyard that I started when I was really young. It's also neat to see how a vineyard changes throughout the years and seeing how the wine that comes out of it changes, but still has a similar character as it did before but is a little different because it's a different year or the weather was different. It's very rewarding to see that evolution.
CA GROWN: As a California farmer, we know that you have a long list of activities you undertake on your farm to care for the land and its resources. What are one or two ways that you're most proud of or you feel are innovative ways you care for your land?
Everardo: We do sustainable farming and that's one of the things that we're good at. We also don't use harsh chemicals on the fields, we use organic sulfur and we try to do everything as naturally as possible.