A fourth-generation California cherry grower, Dean understands the value of family farming in the Golden State. In fact, his son and daughter are both active in his business, which he has run for the past 36 years. But Dean's family business impacts more than just his immediate household — he employs five full-time and 150 seasonal workers, all doing their part to produce superior cherries and satisfied customers.
Currently, Dean grows 175 acres of cherries, and knows exactly why California cherries are so unique and popular with consumers. "California is one of just a few states that produce sweet cherries," he says. "In fact, all California tree fruits are generally sweeter than those from other states."
The reason? Rich soils, mineral-rich water, a near-perfect growing climate and a ready workforce. All of these come together to make California cherries truly special. And allow growers like Dean Devine to keep his family business going strong for generations.
California is home to approximately 600 Bing cherry growers who farm more than 26,000 total acres. Cherry farms are concentrated in the northern, central part of the state, where nutrient-rich soil, abundant sunshine and mild temperatures create an ideal environment for cherry growing.
California produces nearly 20 percent of the country's cherries.
Cherry growers' economic activity stimulates California's economy by providing business tax revenue of nearly $5.7 million annually – about $15,560 a day – that can be used for programs to further benefit our communities.
In addition to being a good source of Vitamin C, California Bing cherries are also high in iron, potassium, dietary fiber and antioxidants.
Cherries offer anti-inflammatory benefits; because they contain an enzyme called anthocyanins, 20 cherries are 10 times as potent as aspirin.
Learn More >
Cherry Chicken Mole
Prep time: 30 minutes
Cook time: 30 minutes total
Serves 4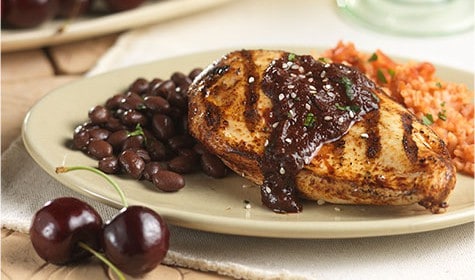 Ingredients
2 dried pasilla chile peppers, stems and seeds removed and torn into strips
2 cups pitted fresh California Bing cherries (slightly heaping)
1 cup chicken broth
1/2 cup chopped onion
3 tablespoons raisins
3 tablespoons tomato paste
2 teaspoons unsweetened cocoa powder
3/4 teaspoon dried oregano
1/4 teaspoon ground cumin
1/4 teaspoon cinnamon
2 cloves garlic, chopped
4 boneless, skinless chicken breasts
Salt and freshly ground pepper
Sesame seeds and cilantro leaves
Preparation
Place chiles in a medium skillet over medium heat. Cook for a minute on each side or until chiles are fragrant and toasty. Place in a blender or food processor with cherries, broth, onion, raisins, tomato paste, cocoa, oregano, cumin, cinnamon and garlic; puree until smooth. Transfer to a medium saucepan and cook over medium heat for about 15 minutes to thicken, stirring frequently. Season chicken lightly with salt and pepper. Grill for 5 minutes on each side or until lightly charred and cooked through. Coat liberally with cherry mole sauce and cook for a minute more on each side. Transfer to a serving platter and top with additional sauce, sesame seeds and cilantro.