Alex MacLachlan is as passionate about California as he is about the quality of his avocados. "I get to grow something special — the quintessential California fruit that has huge cultural significance," he says. "And I get to live in a beautiful setting to boot, in geography that gives us a huge advantage in quality and freshness."
For 13 years, Alex has grown Hass avocadoes in his 16-acre orchard, and is now opening a restaurant to showcase the fruit of his labors. He sees the restaurant as a natural extension of his avocado operation, and an example to other California farmers of how to strengthen their businesses by creating their own customers.
"It used to be a given that you would buy products you needed from your neighbor, and that he would do the same from you. Now globalization has blurred that relationship," he says. "By putting a face back on our products, California can lead the way in rebuilding our brand recognition."
Alex's advice? Demand that your grocer stock the best quality California-grown produce available. And help keep the Golden State a world food leader.
California has nearly 6,000 avocado growers, and the average grove size is 10 acres. Avocados are generally grown in the coastal regions of central to southern California from Morro Bay to San Diego.
California produces about 90 percent of the nation's avocado crop.
Avocado growers' expenditures create an economic ripple effect that generates more than 3,500 California jobs.
Avocados are sodium and cholesterol-free and have only five grams of fat per serving, most of it the monounsaturated kind.
Avocados are a fruit, not a vegetable.
Learn More >
Huevotada
 Prep time: 15 minutes
Cook time: about 20 minutes total
Serves 4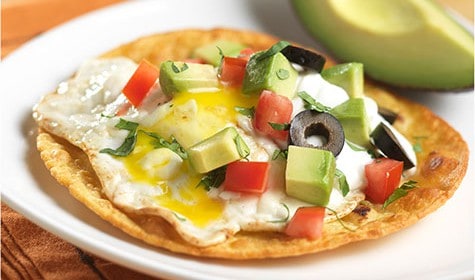 Ingredients
4 corn tortillas
Avocado or olive oil for frying
4 eggs
Salt and freshly ground pepper to taste
1 cup shredded Monterey Jack cheese
1 firm but ripe California Avocado, peeled, pitted and diced
1 diced Roma tomato
1 cup salsa or pico de gallo
1/4 cup sour cream
1/4 cup chopped fresh cilantro
Preparation
Heat a small amount of oil in a small skillet over medium heat. Cook tortillas one at a time for a few minutes on each side or until crisp and lightly browned. Remove from skillet and drain on paper towels; keep warm in oven while cooking remaining tortillas. Fry eggs in a small amount of oil until they're cooked to your liking; season to taste with salt and pepper. Place an egg on each tortilla and sprinkle with cheese. Top with avocado, tomato, salsa, sour cream and cilantro. Serve with refried beans, if desired.