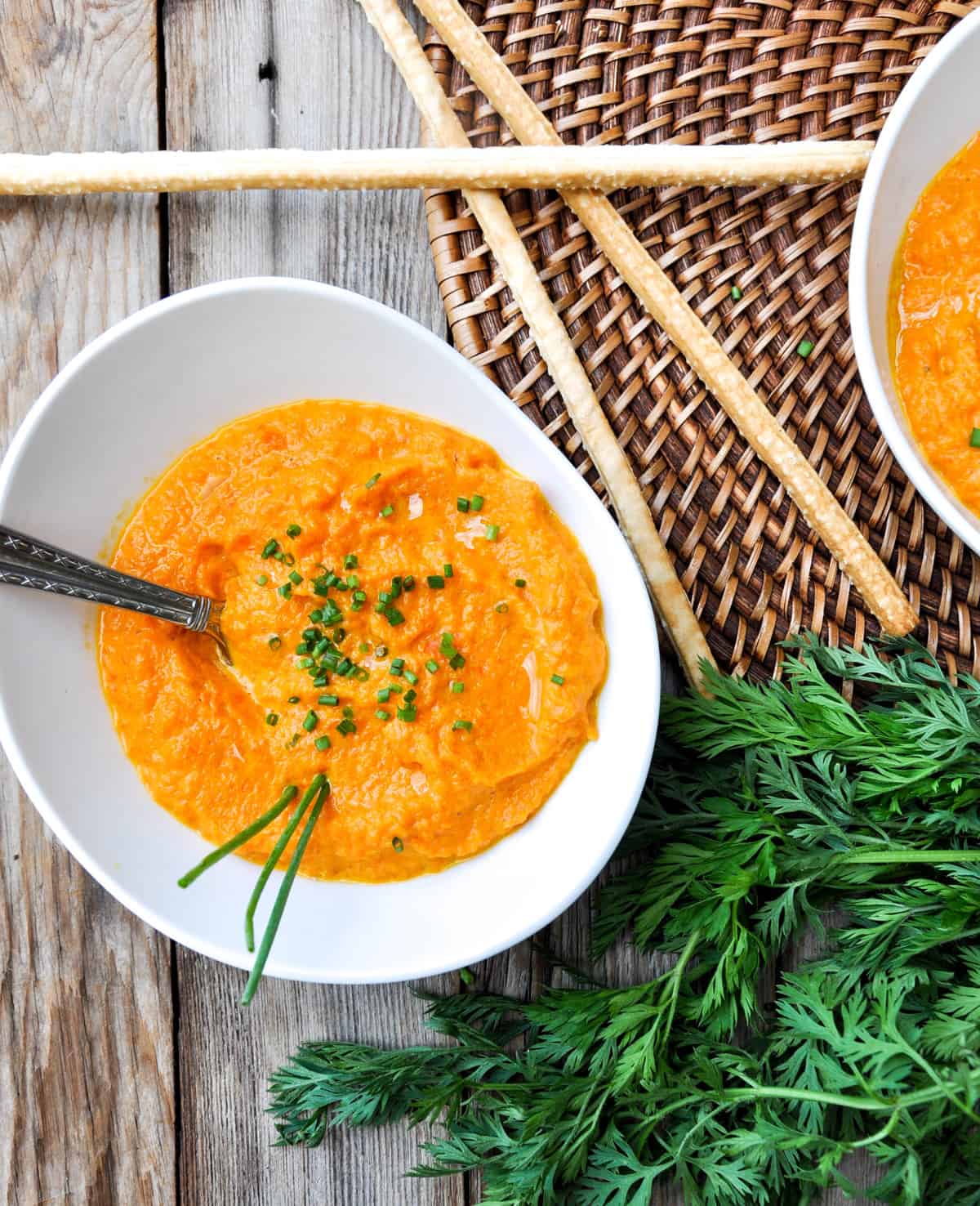 CA GROWN Blog
Discover. Learn. Connect.
Roasted Carrot Bisque
October 26, 2016
Eat the Season!
Sign Up For Weekly Recipes
« Back to Recipes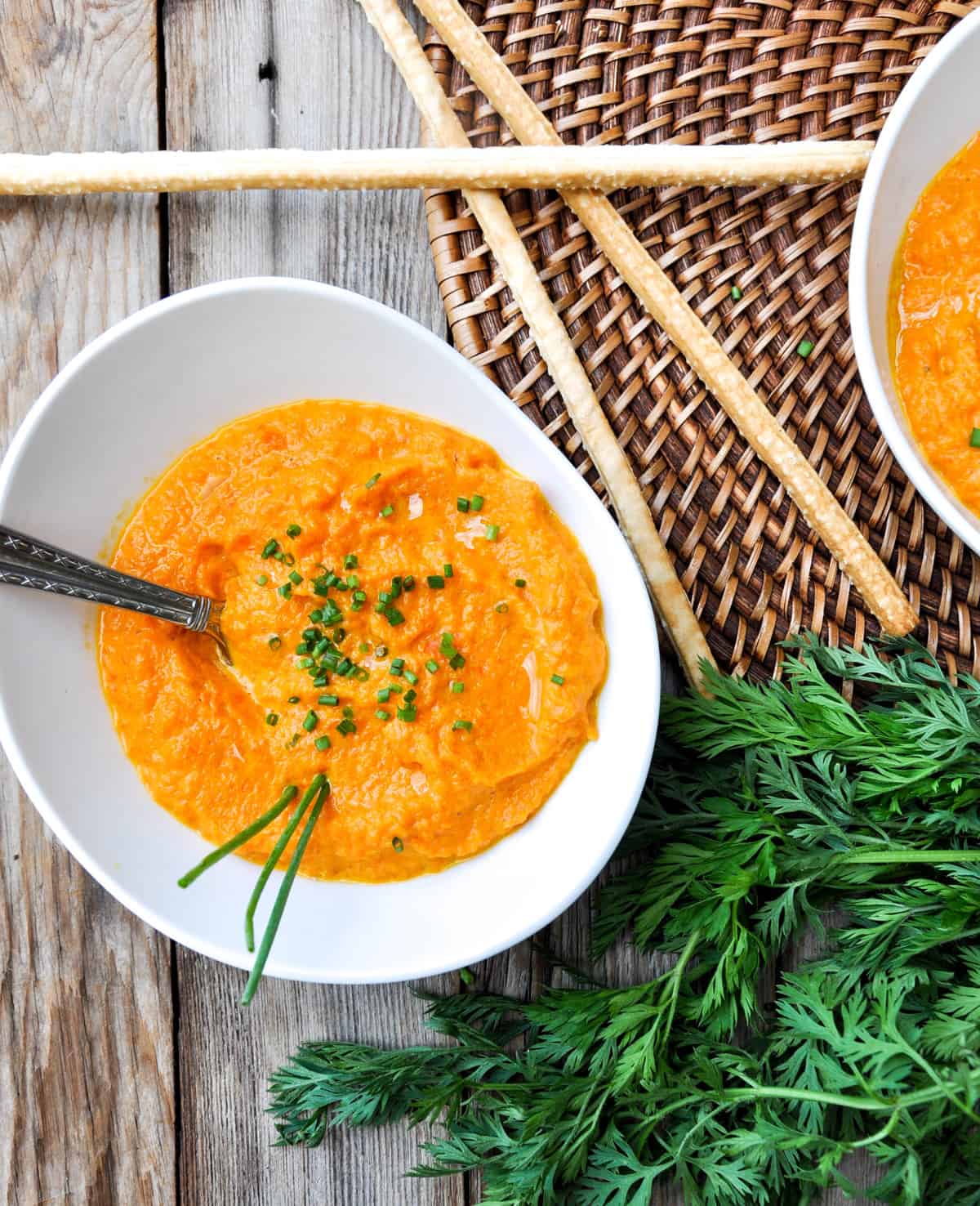 Roasted Carrot Bisque
This Roasted Carrot Bisque recipe takes just a few ingredients, not much prep, and it's healthy and delicious! The soup freezes beautifully too, so don't be afraid to make a double batch.
Updated October 2021 with new recipe card
Jump to Recipe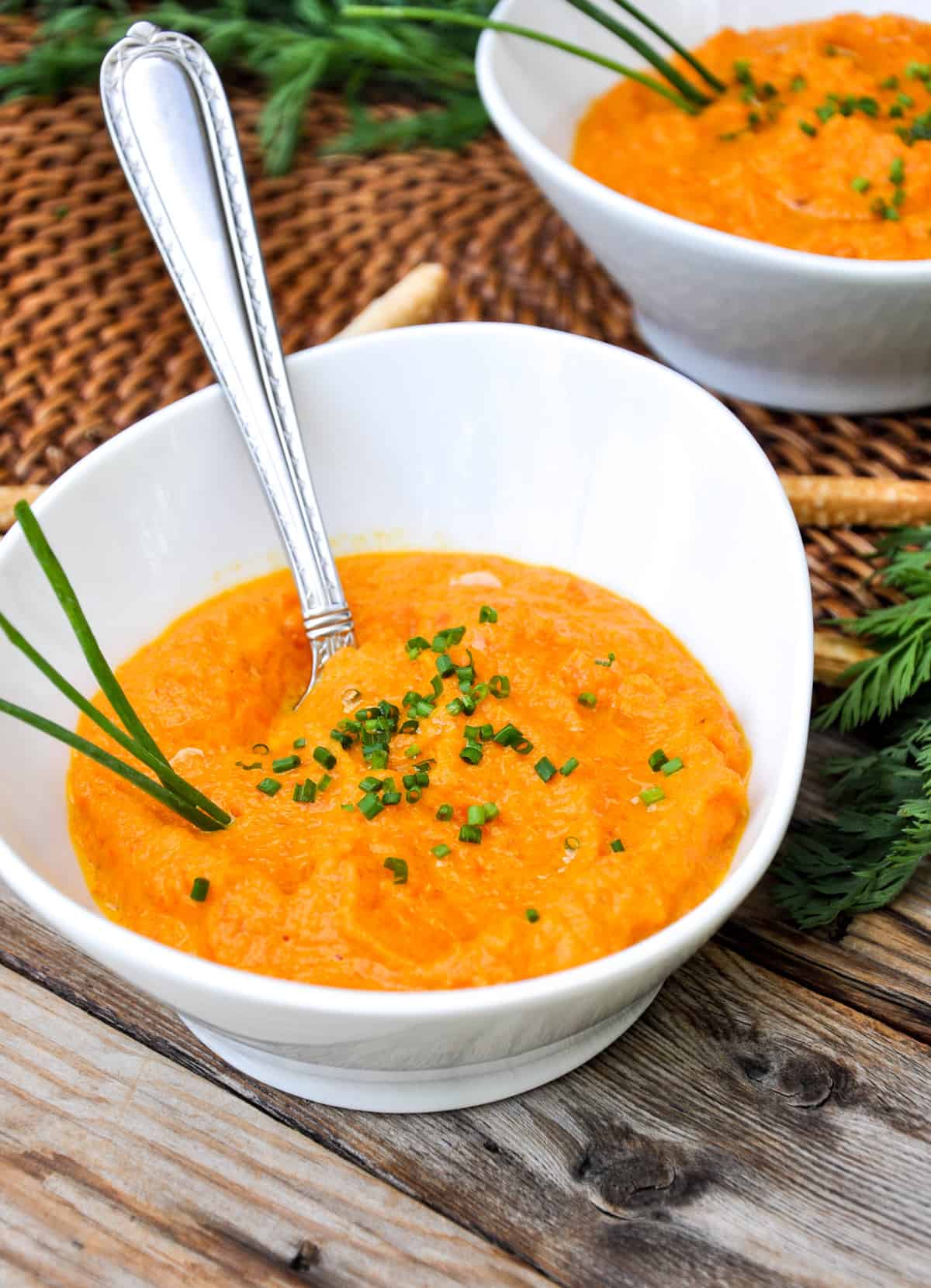 I recently drove to the Central Coast and saw so many trailer loads of carrots on the road! I love going down the freeway and seeing our state's bounty in transit, straight from the field to it's next destination. I think about all the hard-working hands that labored to get it to that point. From the farmer's forethought to work the soil before those carrots were even planted, right down to the farmworkers who pulled them from the ground, everyone plays an integral part.
Even though I love all the artistic hues of the new carrot colors (purple, rust, yellow), I used traditional orange carrots for this recipe. I didn't want my end result to be a strange color that certain people in my family might be opposed to. But feel free to use any combination of color here for the carrots. The color does not change the taste of the carrot, either.
This carrot bisque recipe calls for the roasting of the carrots first, which allows the taste of this soup to have a beautiful, deep flavor. I also added a whole head of roasted garlic to this soup and the addition is essential.
The Nutty Essence is Sublime!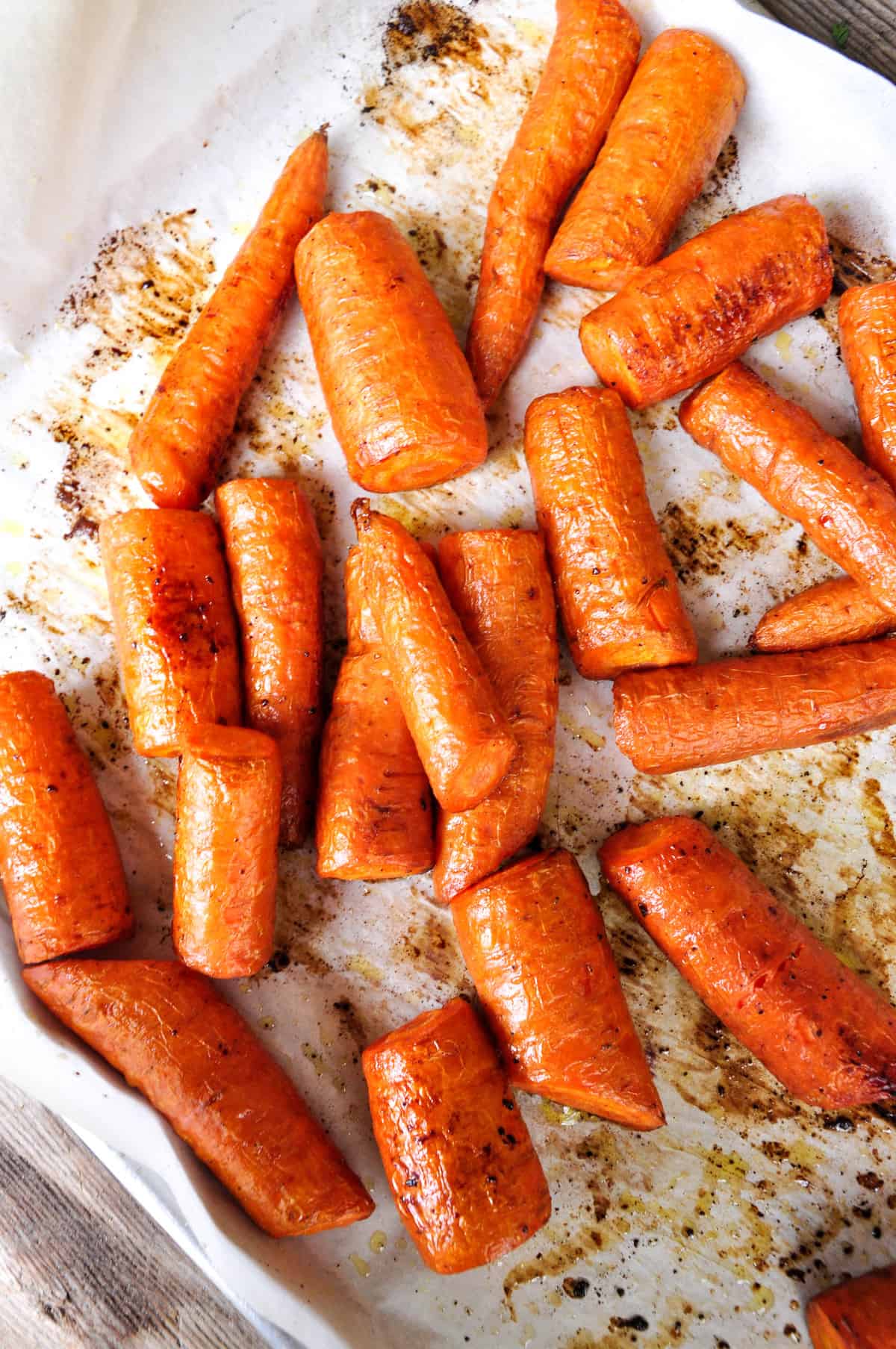 These carrots were so large that I cut them into thirds so when roasted, the doneness would be even throughout.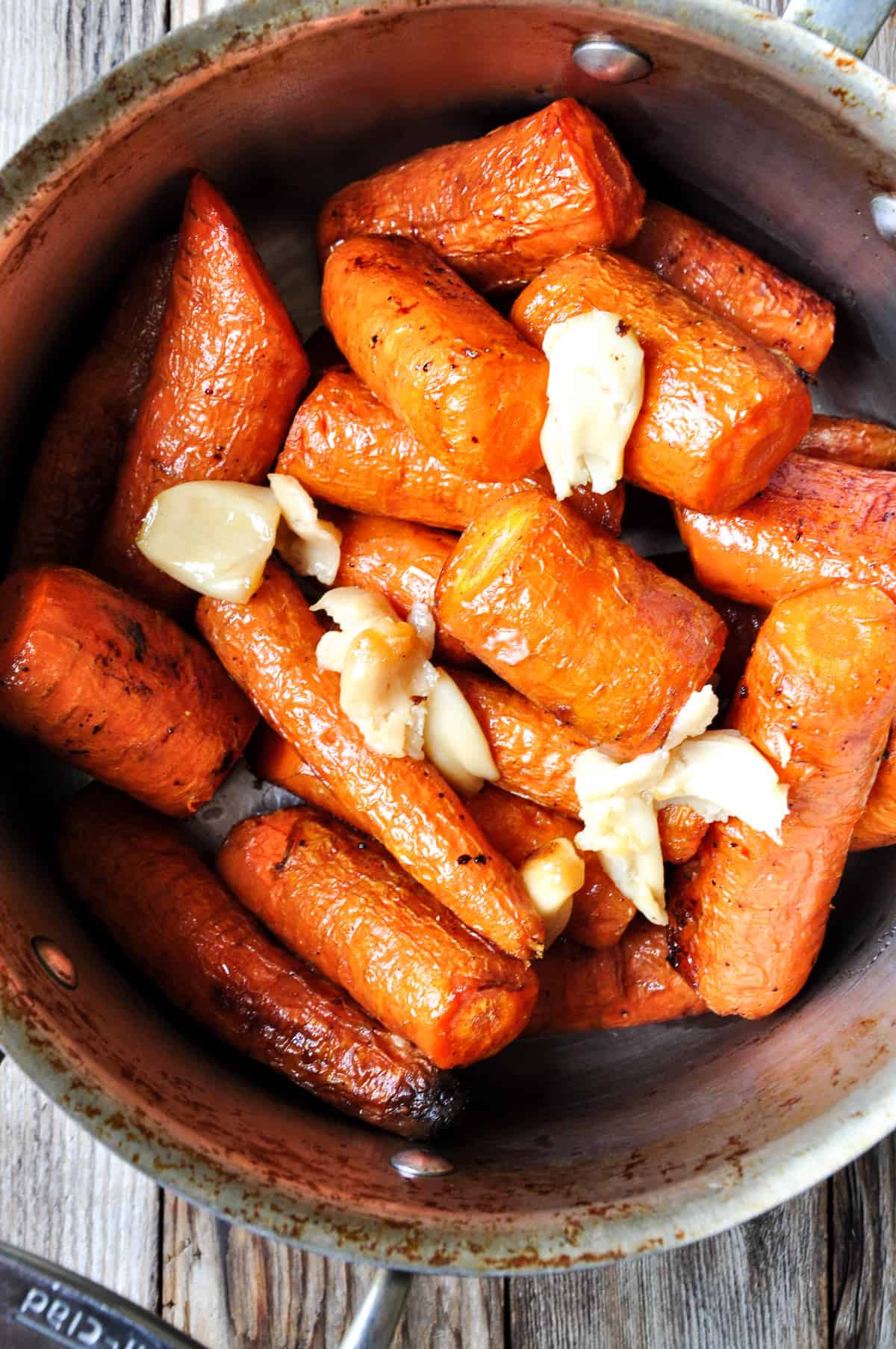 Once the vegetables are tender, place them into a heavy saucepan over a low heat and add the liquids. I used an immersion blender to incorporate all the ingredients together. Easy peasy!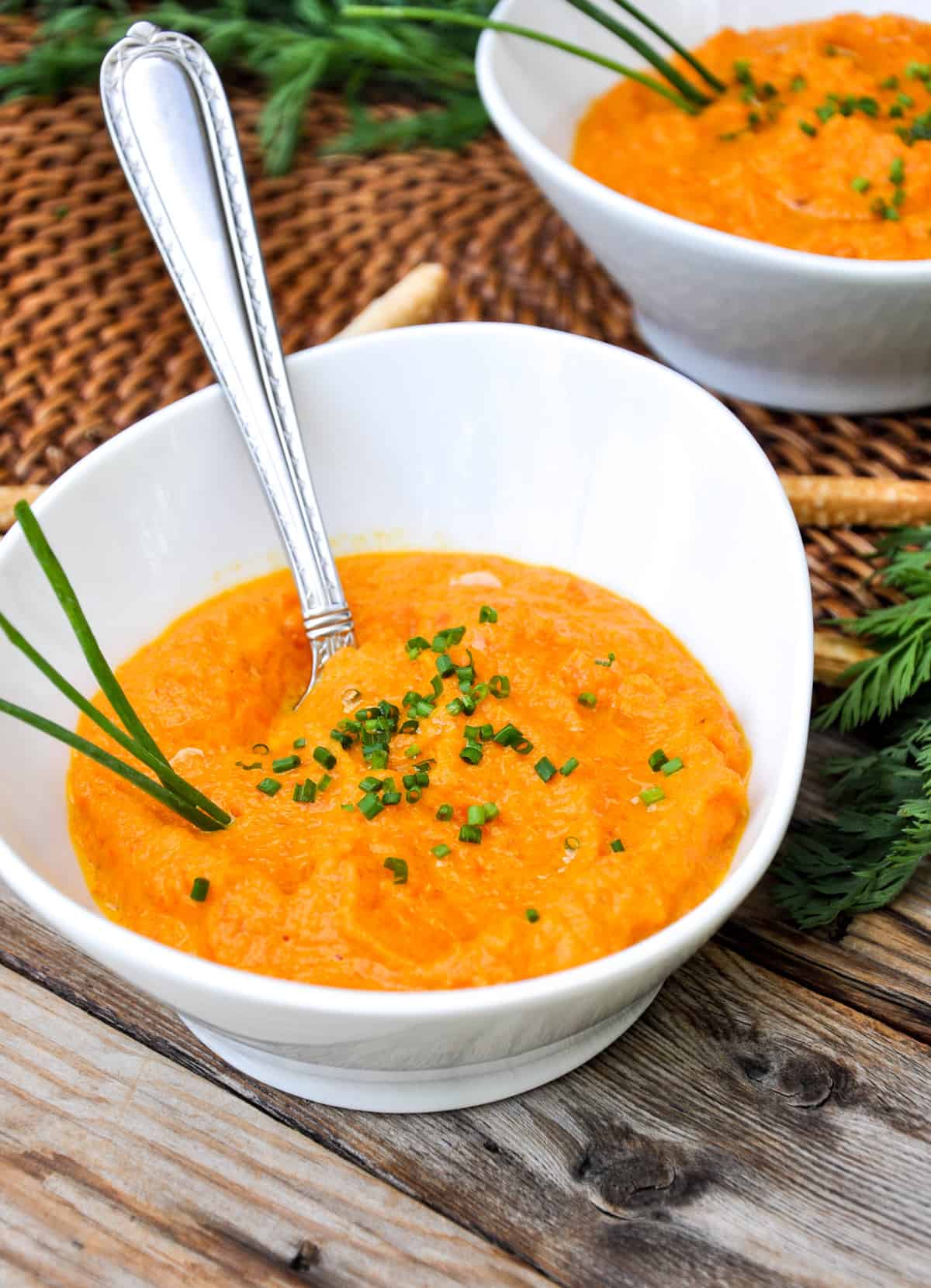 This soup is perfect for a light weekday meal or even a lunch on the go.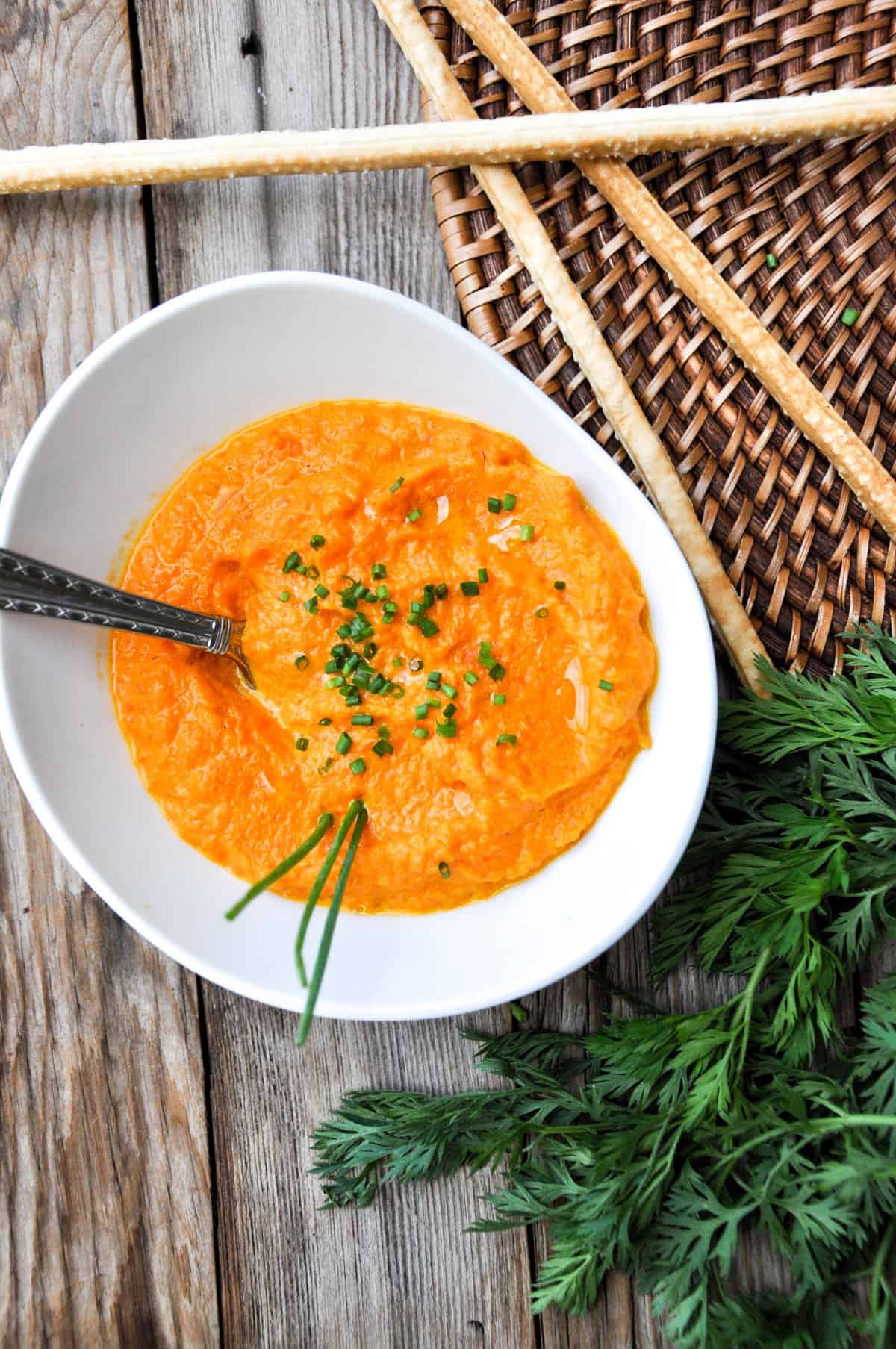 I served it with a few bread sticks and a small salad.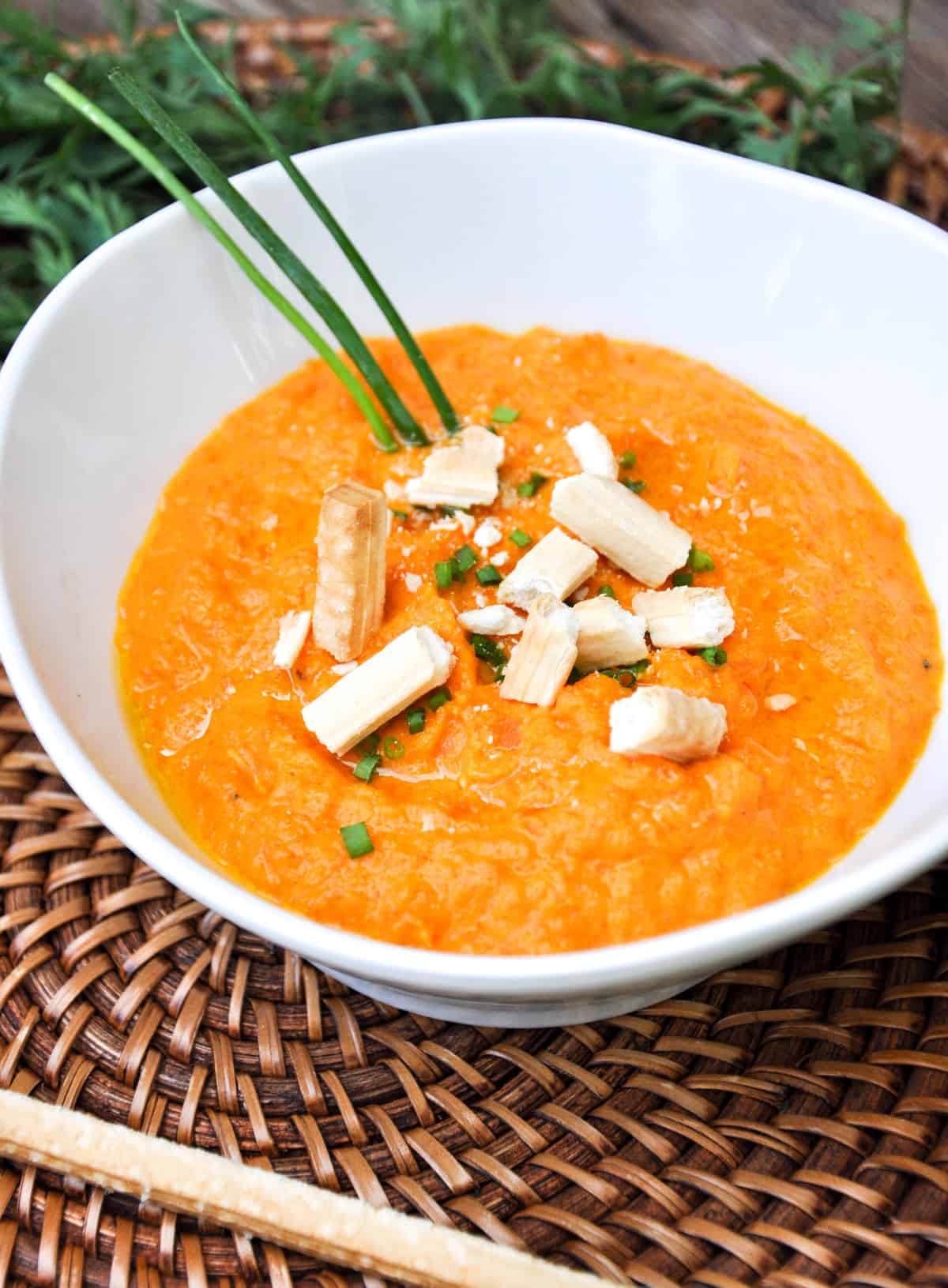 Don't be shy! Break up a few of those breadsticks and crumble them on the top. You could also drizzle on some Homemade Garlic Confit too! If you love carrots, try this Farmers Market Pot Pie recipe or KC's Vanilla Bean Glazed Carrots.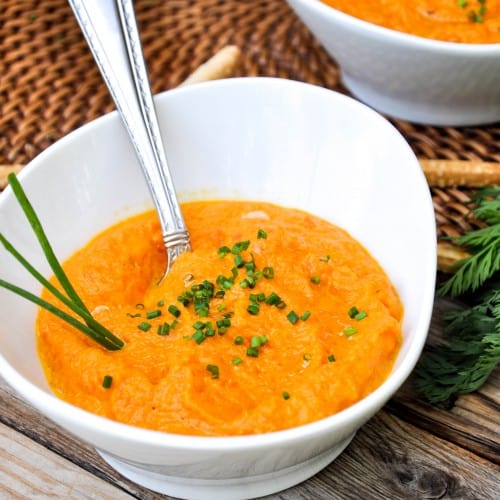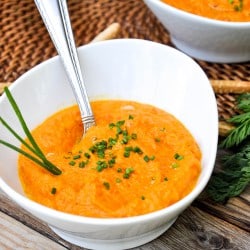 Roasted Carrot Bisque
This Roasted Carrot Bisque recipe takes just a few ingredients, not much prep, and it's healthy and delicious!
Ingredients
8 large carrots about 3 lbs.
1 head garlic
15 oz. chicken broth or vegetable broth or more, if desired
1 cup heavy cream
Instructions
Preheat oven to 400 and line a baking sheet with parchment paper

Cut carrots into large chunks and brush with olive oil to coat. Sprinkle with salt and pepper.

Cut top off of garlic head, drizzle with olive oil and place in a foil tent

Roast carrots and garlic packet in oven for approximately 45 minutes, checking for doneness periodically

Place carrots and garlic cloves into saucepan. Add broth and using an immersion blender, blend up carrots and garlic into liquid.

Turn on heat to low and add the cream. Heat through. Add a little more broth if you'd like the soup thinner.

SEason to taste with salt and serve!
Notes
Serve with sliced scallions and breadsticks.
Nutrition
Calories: 181kcalCarbohydrates: 11gProtein: 2gFat: 15gSaturated Fat: 9gPolyunsaturated Fat: 1gMonounsaturated Fat: 4gCholesterol: 54mgSodium: 355mgPotassium: 309mgFiber: 2gSugar: 5gVitamin A: 14322IUVitamin C: 6mgCalcium: 61mgIron: 1mg