Dried Plum and Kale Salsa Verde with Asparagus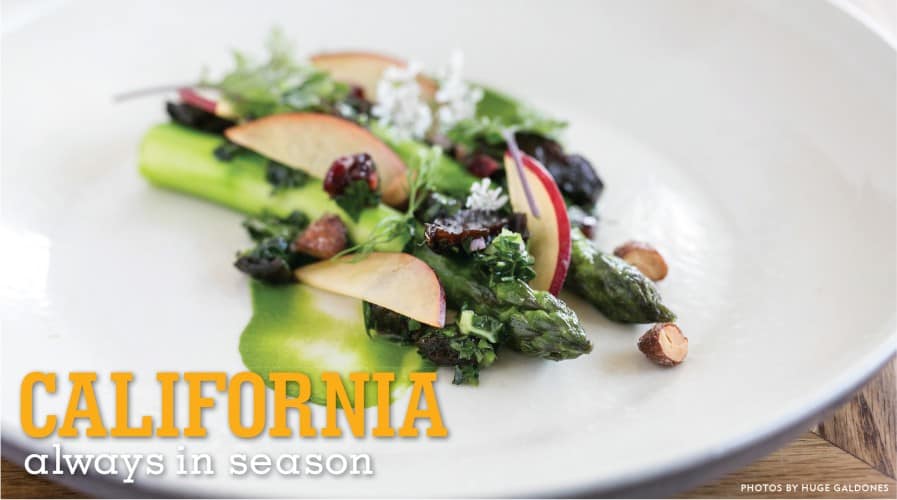 In this unique take on Salsa Verde, Rich Table tops asparagus with a salsa made from kale and dried plums, then finishes the dish with fresh diced plums and candied almonds for an unexpected sweetness.
Serves four
For the asparagus:
2 bunches jumbo asparagus
salt
Juice 1 bunch of asparagus. Peel the second bunch of asparagus.
In a large skillet, gently heat the asparagus spears in the asparagus juice. Season with salt to taste and cook over gentle heat, moving the spears often to cook evenly, until just tender when pierced with a knife.
Discard the cooking juice, then set the asparagus aside to cool. Chill until ready to use.
For the salsa verde:
2 1/2 cups parsley leaves
5 ounces lacinato kale
1 cup plus 2 tablespoons dried plums, small dice
3 ounces shallot, chopped finely
salt
olive oil
champagne vinegar
Finely chop the parsley and kale together.
Add the dried plums, chopped shallots, and salt to taste. Chill until ready to use.
When ready to serve, finish to taste with a drizzle of olive oil and vinegar.
For the kale puree:
1 bunch lacinato kale (reserve several of the smallest and most tender leaves for garnish)
In a large pot of boiling salted water, cook the kale until tender.
Drain, reserving some of the cooking water, then plunge the kale into a bowl of ice water.
Drain kale. Puree the kale in a blender, using some of the cooking water to thin out, if needed. Chill until ready to use.
To serve:
diced fresh plums
candied almonds
Cover the bottom of a plate with a large spoonful of the kale puree.
Place the cooked asparagus on top of the puree.
Dress each spear well with the salsa verde.
Top everything with fresh plums, candied almonds, and the reserved kale leaves.